Indonesian Non-Fiction Books
Toraja
Nigel Barley (Monsoon Books) 2013
British anthropologist provides an occasionally humorous recollection of his experiences in Sulawesi.
Crazy Little Heaven: An Indonesian Journey
Mark Heyward (Transit Lounge) 2013
An Australian teacher recounts 20 years of life in Indonesia.
Julia's Jihad
Julia Suryakusuma (Komunitas Bambu) 2013
Outspoken feminist and humorist Julia Suryakusuma tells it like it is about Indonesia's socio-political issues.
Snowing in Bali
Kathryn Bonella (Pan Macillan) 2012
Tales of Bali's drug users and dealers.
Raffles and the British Invasion of Java
Tim Hannigan (Monsoon Books) 2012
Presents the traditionally esteemed Thomas Stamford Raffles in a considerably darker light.
Jamu: The Ancient Indonesian Art of Herbal Healing
Susan-Jane Beers (Tuttle) 2012
Irishwoman sings praises of traditional potions for health, beauty and sexual prowess. Doesn't mention the tongkat Madura.
Jakarta: 25 Excursions in and around the Indonesian Capital
Andrew Whitmarsh and Melanie Wood (Tuttle) 2012
There's more to Jakarta than just malls, bars and traffic.
Bali Raw
Malcolm Scott (Monsoon Books) 2012
An Australian man's tedious account of violence, sex, drugs and scams in Bali.
Greetings from Jakarta: Postcards of a Capital 1900–1950
Scott Merrillees (Equinox) 2012
A fascinating look at what Jakarta used to look like.
Indonesian Slang: Colloquial Indonesian at Work
Chris Torchia and Lely Djuhari (Tuttle) 2011
Updated version of the 2007 'Indonesian Idioms and Expressions' - now with an index.
Island of the Spirits
John Stanmeyer (Afterhours Books) 2010
Photo essays on Bali's spiritual and mystical culture.
Invisible People
Irfan Kortschak (Lontar) 2010
Superbly illustrated coffee-table book tells the moving stories of poor, marginalized Indonesians and how they survive.
Jakarta Good Food Guide
Laksmi Pamuntjak (Pena Klasik) 2010
Impeccably researched, designed and written. Essential for anyone desirous of a broader knowledge of Jakarta's dining options.
The Airmen and the Headhunters
Judith Heimann (Mariner Books) 2009
Riveting story of American airmen shot down over Borneo in World War II and how friendly Dayaks helped them avoid starvation and capture by the Japanese.
Hotel Kerobokan
Kathryn Bonella (Pan Macmillan Australia) 2009
Grim tales of the sex, drugs, violence and corruption that thrive inside Bali's Kerobokan jail.
My Friend the Fanatic: Travels with a Radical Islamist
Sadanand Dhume (Skyhorse Publishing) 2009
An Indian atheist journalist and his radical Muslim friend travel through Indonesia.
Unfinished Nation: Indonesia Before and After Suharto
Max Lane (Verso) 2008
A look at the role of mass mobilizations in modern Indonesian history, especially in the period surrounding the ousting of Soeharto.
Jakarta
Leonard Lueras, editor (Bali Purnati Center for the Arts) 2008
Coffee-table book of photos and essays on the Indonesian capital.
Jakarta Undercover II
Moammar Emka (Monsoon Books) 2007
More sordid tales of sexual services in Jakarta.
Culture Shock! Jakarta
Terry Collins and Derek Bacon (Marshall Cavendish) 2007
An indispensable guide for those mystified by the whole Jakarta experience.
Pretext for Mass Murder
John Roosa (The University of Wisconsin Press) 2006
Sheds some light on the murky events behind the botched coup attempt that enabled Soeharto to oust Soekarno and massacre communists and leftists.
Doing Java: An Anthropological Detective Story
Niels Mulder (ATF Press) 2006
Anthropologist looks back at his three decades of field work in Java.
Jakarta Undercover
Moammar Emka (Monsoon Books) 2005
An exposure of the many forms of sex-for-sale and sex-for-free in the Indonesian capital.
Bule Gila
Bartele Santema (Equinox), 2005
A Dutchman's humorous tales of managing a bar in Jakarta.
In The Time of Madness
Richard Lloyd Parry (Jonathon Cape) 2005
A journalist witnesses the reform movement in 1998 that saw the abdication of President Soeharto.
Indonesian Destinies
Theodore Friend (Belknap Press) 2005
Interesting first-hand examination of Indonesia's modern history, heavily focused on Java.
Krakatoa: The Day the World Exploded
Simon Winchester (Penguin) 2004
Detailed account of the period and science surrounding the 1883 eruption of the eponymous volcano, west of Java.
The Invisible Palace
Jose Manuel Tesoro (Equinox) 2004
Compelling true story of a journalist who was murdered after exposing local government corruption in Bantul regency, Yogyakarta.
Indonesia's Secret War in Aceh
John Martinkus (Random House) 2004
A disturbing expose of the military's brutality in Aceh province, before the devastating 2004 tsunami brought about a peace process.
INTEL: Inside Indonesia's Intelligence Service
Ken Conboy (Equinox) 2004
The various incarnations of the state intelligence agency and some of its operations.
Kopassus: Inside Indonesia's Special Forces
Ken Conboy (Equinox) 2003
The origins and operations of the Army's feared and influential Special Forces. Does not examine events after 1993.
Hell's Prisoner
Christopher V.V. Parnell (Mainstream Publishing) 2003
Doing time in an Indonesian jail for drug smuggling isn't much fun, especially when you have a big ego.
A Short History of Indonesia: The Unlikely Nation?
Colin Brown (Allen & Unwin) 2003
A good readable summary of Indonesian history.
Indonesia: People and Histories
Jean Gelman Taylor (Yale University Press) 2003
Prosaic history of Indonesia from ancient times to the secession of East Timor. Contains factual errors.
Jakarta Inside Out
Daniel Ziv (Equinox) 2002
Fun cultural guide to the Indonesian capital.
A Dirty Little War
John Martinkus (Random House) 2001
The Indonesian military's brutality in the period surrounding East Timor's 1999 independence referendum.
Suharto: A Political Biography
R.E. Elson (Cambridge University Press) 2001
Scholarly account of the life of Indonesia's longest serving ruler.
Kretek
Mark Hanusz (Equinox) 2000
Insightful and lavishly illustrated coffee-table book on Indonesia's ubiquitous clove-flavored cigarettes.
Nathaniel's Nutmeg
Giles Milton (Penguin) 2000
A galloping good jaunt through the early days of Western interaction with the Spice Islands.
The Magus of Java: Teachings of an Authentic Taoist Immortal
Kosta Danaos (Inner Traditions) 2000
Some people think conjuring tricks are evidence of supernatural powers.
In Search of Moby Dick
Tim Severin (Basic Books) 2000
Includes a look at the traditional whaling village of Lamalera on Lembata Island, near Flores Island, East Nusa Tenggara province.
Batavia in Nineteenth Century Photographs
Scott Merrillees (Archipelago Press) 2000
Images of Jakarta from 1850 to the end of the 19th century.
The Mute's Soliloquy
Pramoedya Ananta Toer (Hyperion) 1999
Memoirs by Indonesia's finest writer during his years of hardship as a political prisoner on Buru Isand. A triumph of human spirit over cruel oppression.
Throwim Way Leg
Tim Flannery (Trafalgar Square) 1998
Australian scientist recounts years of expeditions and adventures in Irian Jaya and Papua New Guinea.
The Open Cage
Daniel Start (Harper Collins) 1997
Riveting first-hand account of the ordeal of a group of British and Indonesian zoologists taken hostage by separatists in Papua (when it was still called Irian Jaya) in 1995.
The Romance of K'tut Tantri and Indonesia
Tim Lindsey (OUP) 1997
Enthralling examination of how much fiction a Scottish-American woman wove into the story of her life as a spy and revolutionary in Bali.
From Sabang to Merauke
John Keay (Boxtree) 1996
A pleasant excursion across Indonesia before the fall of Soeharto.
The Way of a Boy
Ernest Hillen (Penguin) 1995
A Dutchman recalls his early years in Japanese prisoner-of-war camps for women and children in Java.
An Empire of the East
Norman Lewis (Picador) 1995
A good writer casting his critical eye over Soeharto's Indonesia.
A Nation in Waiting
Adam Schwarz (Allen & Unwin) 1994
Indonesia in the 1990s before the 'abdication' of President Soeharto. Updated in 1999.
Soeharto: My Thoughts, Words and Deeds
As told to G. Dwipayana And Ramadhan K.H. (Citra Lamtoro Gung Persada) 1991
English edition of Soeharto's autobiography. Marvel as he takes the credit for extra-judcial killings and praises his children's business skills.
Stranger in the Forest
Eric Hansen (Houghton Mifflin), 1988
Wonderful tale of a trek across Malaysian and Indonesian Borneo.
Ring of Fire: An Indonesian Odyssey
Lorne and Lawrence Blair (Bantam) 1988
Entertaining travelogue of two brothers who spent a decade trekking through remote areas of Indonesia.
Into the Heart of Borneo
Redmond O'Hanlon (Salamander Press) 1984
Hilarious and educational tale of two Britons' journey into Kalimantan.
Historical Sites of Jakarta
Adolf Heuken (Cipta Loka Caraka) 1983
Numerous maps and illustrations as well as details of little-known, often neglected historical places of interest.
A History of Modern Indonesia Since c. 1200
M.C. Ricklefs (Bloomington Indiana University Press) 1981
Now in its fourth edition, covering eight centuries up to the post-Soeharto period.
Gifts of Unknown Things
Lyall Watson (Simon and Schuster) 1976
New age biologist muses upon superstition and the supernatural on an Indonesian island.
The Night of the New Moon
Laurens Van der Post (The Hogarth Press) 1970
Afrikaner recalls the hardships of a Japanese prisoner-of-war camp in Java.
The End of Sukarno
John Hughes (TBS) 1968
One of the best insights into the tragic events of 1965 - reads like a political thriller.
Sukarno: An Autobiography
As told to Cindy Adams (Bobbs-Merrill) 1965
Adds to the understanding of Soekarno and with that a better understanding of Indonesia.
The Decline of Constitutional Democracy in Indonesia
Herbert Feith (Cornell University Press), 1962
Definitive study into Indonesia's experiment with liberal democracy in the 1950s.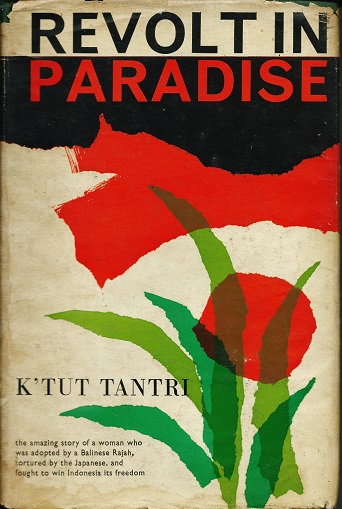 Revolt in Paradise
K'tut Tantri (Heinemann) 1960
A Scottish-American woman recounts her role during Indonesia's independence struggle and her imprisonment by the Japanese.
A House in Bali
Colin McPhee (J. Day Co) 1947
Canadian composer learns about Bali's culture and music.
Letters of a Javanese Princess
Raden Adjeng Kartini (Duckworth & Co) 1921
The correspondence of a girl who longed to escape the rigid confines of the Javanese aristocracy and liberate women from oppression.
The Malay Archipelago
Alfred Russel Wallace (Macmillan) 1869
A classic of travel hardship and scientific exploration.
Java; or, How to manage a colony
James William B. Money (Hurst and Blackett) 1861
An Englishman examines colonial Java to advise the British on how to manage India. Fascinating descriptions of Batavia and Java of yore.
The Conquest of Java
Major William Thorn (T. Egerton) 1815. Republished (Periplus) 1993
A soldier of the British Empire describes the people, culture and wildlife of Java, and some other islands.

Contributor: tupai

Want to make a comment? Login or Register.

---
---